Orthodontics
Short term orthodontics gives you the option of removable braces or fixed braces that can be worn for as little as 6 months. 
Orthodontics focuses specifically on the alignment of teeth. Orthodontics aims to correct dental irregularities such as crooked, crowded and protruding teeth. 
Fixed Braces
Cosmetic fixed Braces - For our fixed ceramic appliance we use clear brackets. This treatment is almost invisible – most people won't even notice you're wearing them.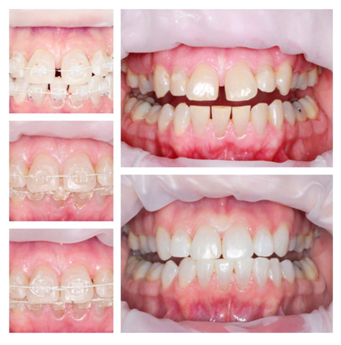 Lingual fixed Braces - Lingual braces are completely discreet they look and work in the same way as traditional metal braces. Lingual braces are fitted on the inside surface of your teeth, which means they can not be seen. 
Metal fixed Braces - Visible, yet effective. Although the metal brackets attached to the front of the teeth are visible, this type of brace still offers great results.
Removable Braces
Clear removable braces -are the ideal solution for patients looking for effective tooth movement. This treatment offers an essential alternative to fixed braces. Clear removable braces are a set of clear plastic aligners, which gradually move your teeth into the desired position, but without anyone noticing that you are undergoing teeth straightening treatment.
How Much Correction Do You Need?
Traditional metal braces can tolerate more pressure than ceramic ones. Metal braces are recommended for more severe correction. Ceramic braces can also take more time to align your teeth since adjustments have to be slightly smaller. That said, both types of braces work on the same principles and are equally as effective for most cases.
Consultations
To book a free consultation with our Patient Coordinator click here to contact us. Any proposed treatment will be explained to you in full and you will have the opportunity to ask any questions that you may have.
If you would like any more information on any other services we provide at Breeze Dental please click here to contact us.
Breeze Dental also offer Dental Finance with 0% APR on many of our treatments, we can arrange installments to make the cost of treatment more manageable and offer an alternative to paying the total up-front.