Whitening
Teeth whitening is the quickest and most effective way to improve the appearance of your smile.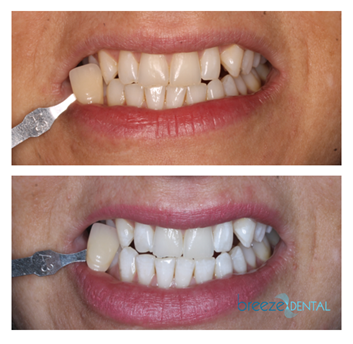 The natural whiteness and brightness of teeth fades over time, with teeth discolouring and staining due to a range of things that we commonly consume, like coffee, tea, red wine and cigarettes.
Which Whitening systems do we use?
Here at Breeze Dental we use White Wash.
How long will the results last?
We ask that you follow our simple post whitening care instructions. By doing this it is a common that your results will last, as long as you maintain you top-ups at home at least once a month. To keep your teeth looking their best we recommend using oral hygiene aids such as floss or tepes, brushing twice a day.
How safe is teeth whitening?
There is absolutely no enamel damage when whitening teeth professionally. When done in the hands of a qualified dentally trained person extensive research and clinical studies indicate that whitening is considered the safest cosmetic dental procedure available.
Consultations
To book a free consultation with our Patient Coordinator click here to contact us. Any proposed treatment will be explained to you in full and you will have the opportunity to ask any questions that you may have.
If you would like any more information on any other services we provide at Breeze Dental please click here to contact us.
Breeze Dental also offer Dental Finance with 0% APR on many of our treatments, we can arrange installments to make the cost of treatment more manageable and offer an alternative to paying the total up-front.